Pocket House Featured on the Edmonton Journal
Published on: November 27, 2015 | Last Updated: November 27, 2015 12:56 PM MST
Trisha Estabrooks, Edmonton Journal
Downsizing the Pocket House Way
The owners of Pocket House, an Alberta company with big ideas on how to build tiny homes, want you to dream big — but not too big.
After all, the home is just 533 square feet.
Packed into the home's small footprint are carefully thought out design features and creative storage solutions meant to woo prospective buyers craving simplicity but not wanting to skimp on quality.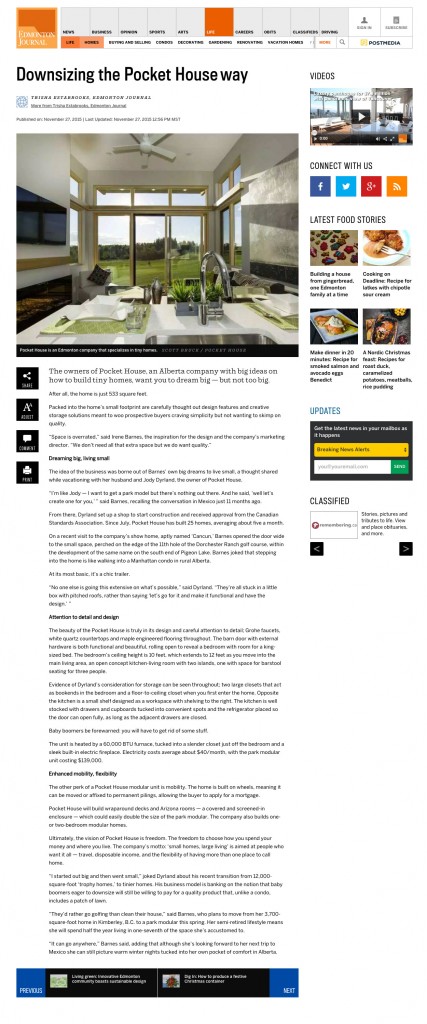 "Space is overrated," said Irene Barnes, the inspiration for the design and the company's marketing director. "We don't need all that extra space but we do want quality."
Dreaming big, living small
The idea of the business was borne out of Barnes' own big dreams to live small, a thought shared while vacationing with her husband and Jody Dyrland, the owner of Pocket House.
"I'm like Jody — I want to get a park model but there's nothing out there. And he said, 'well let's create one for you,' " said Barnes, recalling the conversation in Mexico just 11 months ago.
From there, Dyrland set up a shop to start construction and received approval from the Canadian Standards Association. Since July, Pocket House has built 25 homes, averaging about five a month.
On a recent visit to the company's show home, aptly named 'Cancun,' Barnes opened the door wide to the small space, perched on the edge of the 11th hole of the Dorchester Ranch golf course, within the development of the same name on the south end of Pigeon Lake. Barnes joked that stepping into the home is like walking into a Manhattan condo in rural Alberta.
At its most basic, it's a chic trailer.
"No one else is going this extensive on what's possible," said Dyrland. "They're all stuck in a little box with pitched roofs, rather than saying 'let's go for it and make it functional and have the design.' "
Attention to detail and design
The beauty of the Pocket House is truly in its design and careful attention to detail; Grohe faucets, white quartz countertops and maple engineered flooring throughout. The barn door with external hardware is both functional and beautiful, rolling open to reveal a bedroom with room for a king-sized bed. The bedroom's ceiling height is 10 feet, which extends to 12 feet as you move into the main living area, an open concept kitchen-living room with two islands, one with space for barstool seating for three people.
Evidence of Dyrland's consideration for storage can be seen throughout; two large closets that act as bookends in the bedroom and a floor-to-ceiling closet when you first enter the home. Opposite the kitchen is a small shelf designed as a workspace with shelving to the right. The kitchen is well stocked with drawers and cupboards tucked into convenient spots and the refrigerator placed so the door can open fully, as long as the adjacent drawers are closed.
Baby boomers be forewarned: you will have to get rid of some stuff.
The unit is heated by a 60,000 BTU furnace, tucked into a slender closet just off the bedroom and a sleek built-in electric fireplace. Electricity costs average about $40/month, with the park modular unit costing $139,000.
Enhanced mobility, flexibility
The other perk of a Pocket House modular unit is mobility. The home is built on wheels, meaning it can be moved or affixed to permanent pilings, allowing the buyer to apply for a mortgage.
Pocket House will build wraparound decks and Arizona rooms — a covered and screened-in enclosure — which could easily double the size of the park modular. The company also builds one- or two-bedroom modular homes.
Ultimately, the vision of Pocket House is freedom. The freedom to choose how you spend your money and where you live. The company's motto: 'small homes, large living' is aimed at people who want it all — travel, disposable income, and the flexibility of having more than one place to call home.
"I started out big and then went small," joked Dyrland about his recent transition from 12,000-square-foot 'trophy homes,' to tinier homes. His business model is banking on the notion that baby boomers eager to downsize will still be willing to pay for a quality product that, unlike a condo, includes a patch of lawn.
"They'd rather go golfing than clean their house," said Barnes, who plans to move from her 3,700-square-foot home in Kimberley, B.C. to a park modular this spring. Her semi-retired lifestyle means she will spend half the year living in one-seventh of the space she's accustomed to.
"It can go anywhere," Barnes said, adding that although she's looking forward to her next trip to Mexico she can still picture warm winter nights tucked into her own pocket of comfort in Alberta.
[hr style="1,2,3,4″ margin="40px 0px 40px 0px"]
Find Out More
[contact-form-7 id="8″ title="Send Us an Email"]