Published on: THURSDAY, DECEMBER 10, 2015 05:08 PM MST
TIM BRYANT, Edmonton Sun
This Home Will Fit In Your Pocket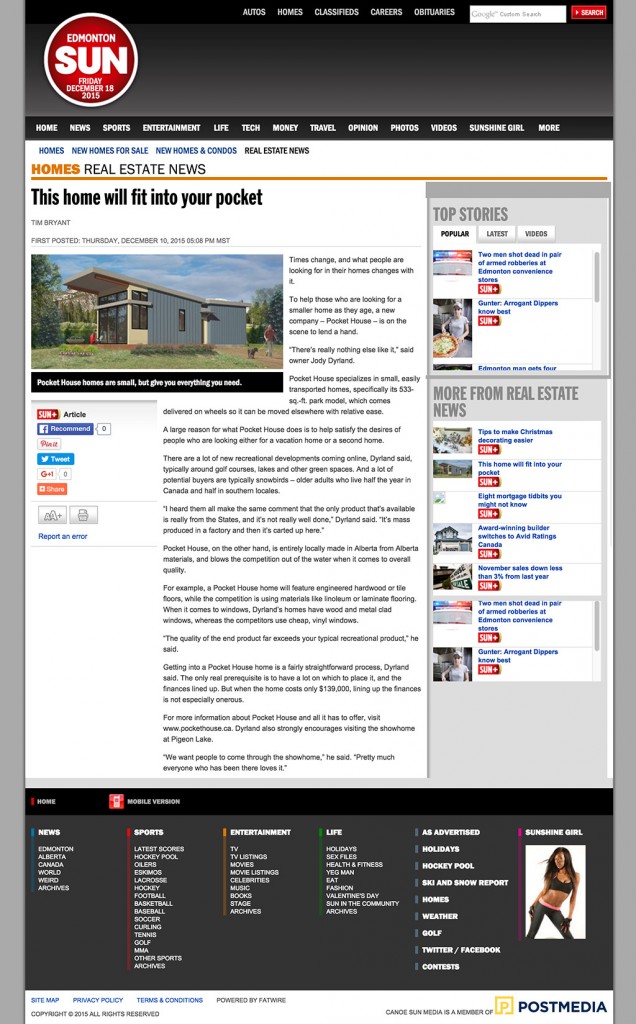 Times change, and what people are looking for in their homes changes with it.
To help those who are looking for a smaller home as they age, a new company – Pocket House – is on the scene to lend a hand.
"There's really nothing else like it," said owner Jody Dyrland.
Pocket House specializes in small, easily transported homes, specifically its 533-sq.-ft. park model, which comes delivered on wheels so it can be moved elsewhere with relative ease.
A large reason for what Pocket House does is to help satisfy the desires of people who are looking either for a vacation home or a second home.
There are a lot of new recreational developments coming online, Dyrland said, typically around golf courses, lakes and other green spaces. And a lot of potential buyers are typically snowbirds – older adults who live half the year in Canada and half in southern locales.
"I heard them all make the same comment that the only product that's available is really from the States, and it's not really well done," Dyrland said. "It's mass produced in a factory and then it's carted up here."
Pocket House, on the other hand, is entirely locally made in Alberta from Alberta materials, and blows the competition out of the water when it comes to overall quality.
For example, a Pocket House home will feature engineered hardwood or tile floors, while the competition is using materials like linoleum or laminate flooring. When it comes to windows, Dyrland's homes have wood and metal clad windows, whereas the competitors use cheap, vinyl windows.
"The quality of the end product far exceeds your typical recreational product," he said.
Getting into a Pocket House home is a fairly straightforward process, Dyrland said. The only real prerequisite is to have a lot on which to place it, and the finances lined up. But when the home costs only $139,000, lining up the finances is not especially onerous.
For more information about Pocket House and all it has to offer, visit www.pockethouse.ca. Dyrland also strongly encourages visiting the showhome at Pigeon Lake.
"We want people to come through the showhome," he said. "Pretty much everyone who has been there loves it."